Platinum Multivitamin EasyMulti
Brand:

Platinum

Product Code:

120 Sg

Availability:

In Stock
EasyMulti® contains essential vitamins and minerals plus a booster of omega-3 oils - all in a single dose softgel.
With the declining nutrient values in fruits and vegetables combined with increased exposure to pollution and stressors, multivitamins are more important today than ever before. Offering a wide spectrum of vitamins and minerals, EasyMulti® helps you meet your daily nutritional needs.
Features:
Gluten Free*
Lactose Free
Natural
Peanut Free
* Products are manufactured without gluten but not tested.

Key Ingredients:Omega-3
Protect the cardiovascular system
Lower 'bad' LDL cholesterol
Raise 'good' HDL cholesterol
Discourage fat storage
Improve cognitive function and mood
Reduce inflammation in the body
Omega-6
Lower total and 'bad' cholesterol
Raise 'good' HDL cholesterol
Lower blood pressure
Reduce pain, swelling and inflammation associated with arthritis
Combat eczema
Relieve symptoms of PMS and menopause
Vitamin D
Aid in the absorption of calcium
Necessary for proper dental development
Boost immunity
Recommended Adult Dosage: One capsule daily with a meal.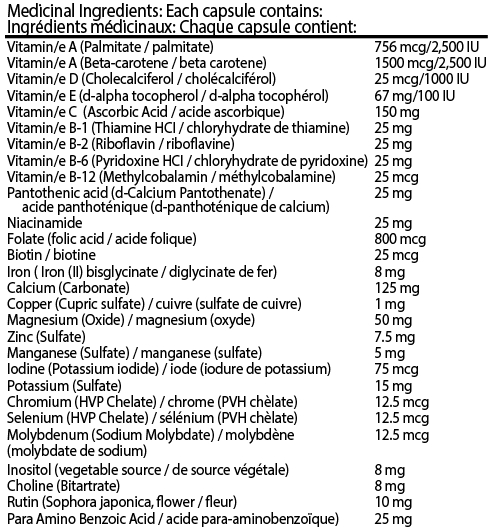 Non-Medicinal Ingredients:
Flax (Linseed) Oil (432 mg), beeswax, lecithin (from soy).
Capsule Ingredients:
Gelatin, glycerin, purified water, caramel (natural colour).
Contains PABA:
Consult a health care pracitioner prior to use if pregnant or breastfeeding or if you are taking sulphonamides. Hypersensitivity (e.g. allergy) has been known to occur; in which case, discontinue use.
Caution:
Keep out of reach of children. There is enough iron in this package to seriously harm a child.